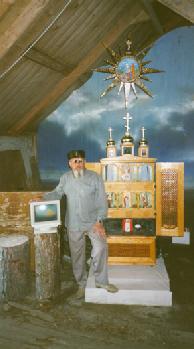 Batleika
[Belorus puppet theatre in Bosnia and Herzegovina]
As result of Troitsa's visit to BiH last year, this year Ivan Kirchuk came on his own to show his puppet-theatre. Ivan Kirchuk, ethnographer and teacher at the University of Minsk, wanted to show his program to children and at the same time learn more about the Bosnian situation he would like to speak about to his pupils. With the support of Soros Open Society Foundation New York we went ahead. Between the 4th and 13th of March Ivan Kirchuk played in Konjic, Travnik, Banja Luka, Mrkonjic Grad, Sipovo, Tuzla, Sarajevo, Pazaric, Mostar, Blagaj, Tinja and Budapest. 21 concerts in total of which 6 only music performances. The performances at schools, orphanages, youth theatres and cultural centres were received very well by the children and the staff of the institutes we visited.


The Batleika program contained:

1. Tsar Irod.
A 12 minutes story about Tsar Irod who wants to kill all children after he had heard that a new king was born. This story is an ancient Christian story and is not being performed in situations were tensions with the (Muslim) school directory may occur and in situations were the performance has to take place without competent translator.

2. Sketches.
Six small stories performed with 16 puppets speaking about simple daily situations.

3. Masks and music
Masks (of people and of animals) were shown while traditional music could be heard from a tape. Especially the masks of the goat and the bear left great impressions on the children.

4. Live acoustic music.
Often these songs were related to the sketches. This part helped the children to stay concentrated on the puppet-theatre which was spoken in a foreign language.
Music was performed with several different instruments
Although many people helped us very much during this tour, some special attention should be given to:

[Alexander 'Krcko' Granulic]
The complete day in Banja Luka was arranged by Alexander. He is BiH's most popular host of a children program. His work for Batleika was remarkable and he will broadcast some of it in his program. An invitation for Ivan to come back in July followed soon after.
[ Sarajevska Zima]
Sarajevo Winter Festival. As BiH's most extended and complete festival taking place forty days with many international artists appearing, Sarajevo Winter Festival offered Batleika a very good venue to perform, good publicity and even some extra money.
[Zelenkovac Ecological Movement]
Visiting Zelenkovac on Sunday, the usual day for people to visit Zelenkovac, we build up the theatre outside in the sun. Just one hour later the cameraman arrived, Ivan started to play and the snow fell from the sky. The recordings became unforgettable and the atmosphere was brilliant.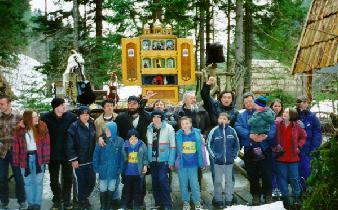 [Pavarotti Music Centre]
Batleika has performed in two primary schools where PMC has regular music education programs. In the evening Ivan Kirchuk performed a solo performance at the PMC. PMC supplied all facilities, accommodation, food, a guide and great understanding and support for the Batleika project. Despite several local difficulties the co-operation was fine on all ways.
[ Soros Open Society Foundation]
Although we actually didn't fit in the regulations of the Soros Foundation for a grant, the ladies at the New York office anticipated grateful to our modest proposal.
Projects like Batleika are impossible without the support of such foundations and it's co-operators.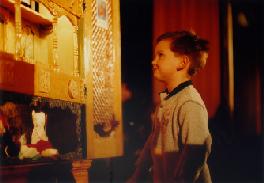 Batleika faced some external difficulties we would like to mention to you.
We do this because through this information you can see how politics effect daily life:

- During our travel through BiH there was a big change in the political situation of Republika Srpska. Because of that one music performance was cancelled, we missed our translator who didn't want to go to the RS, and we missed the cameras of ATV - OBN. These cameras were looking for politicians.
- In Tuzla a concert was cancelled because our journey of 180 km (105 miles) took 7 hours due to massive patrols of international military. Checkpoints and closed bridges included.
- The concert in Tinja was delayed because the 8th of March is International Women's day. The director, a woman, decided not to work and the school was closed.
In the Tinja region there are many refugees form Srebrenica, mainly children and women.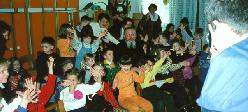 - In Blagaj near Mostar, Batleika performed without the theatre. Just puppets, masks and instruments were used. The theatre itself was still packed in its bags. Reasons: it contains three crosses (whereas two are not bigger than one centimetre and the other maximum three cm.). Our guide of PMC refused to take the risk to challenge the (Muslim) director of the school. In order to not make problems for the PMC education project we decided to play without theatre-box.
Blagaj faced heavy damage during the war both from Serb and Croat forces. It was disconnected from other Muslim areas and suffered many losses.
- The performances in the villages around Travnik could not happen because we got told we would need a permission from the ministry. Instead some performances were given in the "House of Youth" but for fewer children.
Travnik is a canton where Muslims and Croats live in extreme bad relation. In situations like this bureaucracy is stronger than self-initiative, frankness and creativity. Unfortunately.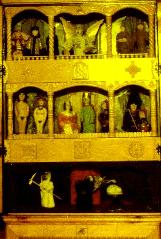 Batleika was performed by:

Ivan Kirchuk

With help of :
Mustafa Tandir
Martin S. Past

pictures by andrEa Siegl, Martin S. Past, Laurie Zegveld.
meer foto's ?