Tuesday 17th of February
Titova 9a
Le Comité European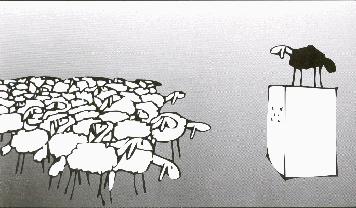 Interview over het Sarajevo Winter Festival
We probeerden de directeur van het International Peace Center een paar kritische vragen te stellen. Deze man is druk bezet en is tevens directeur van het Sarajevo Winter Festival. Een festival waar artiesten uit 35 landen spelen. Van te voren werd ons verteld dat deze man teveel praat. Iets later dan onze afspraak eigenlijk was komen we binnen. Inderdaad was de man nogal druk. Het duurde een kwartier voordat hij tijd vond om iemand koffie te laten halen en toen de 10 minuten later op tafel stond ging hij alweer weg. Ook een afspraak een paar uur later was tevergeefs. Geen Ibrahin Spahic te bekennen. Uit de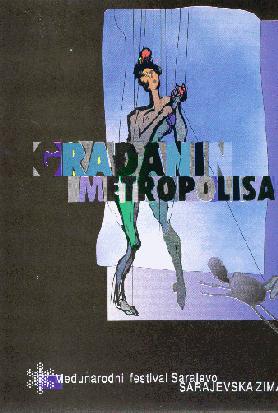 documentatie die we kregen halen we de antwoorden op onze vragen. Wij kunnen hierdoor geen verantwoordelijkheid nemen over de (on)vriendelijkheid van de woorden zoals gebruikt.
History of the festival
De eerste keer dat het Sarajevo winter festival werd georganiseerd was in begin 1985, tijdens de gelijktijdige Olympische winterspelen, gedurende 12 seizoenen en 600 dagen Sarajevo winter werden 1150 verschillende performances en exposities gegeven met bijna 2 miljoen bezoekers en 11.000 artiesten.
Het festival werd ook tijdens de belegering van Sarajevo ('92, '93, '94 en '95) georganiseerd. Het Sarajevo Winter festival, in samenwerking met het Internationaal peace centrum organiseerden het project 'Sarajevo, an Open city' Het project 'Sarajevo, Cultural city of Europe werd gesteund door de Europese Unie, UNESCO, Het Europese parlement, het Europees cultureel fonds in Brussel, de Brusselse regio en Open road Stockholm - Sarajevo. PTT BiH is algemeen sponsor van het Sarajevo winter festival.
How is the current festival, is it a succes,...... in what sense?
Are you able to reach the Sarajevo people as well?
No answer
Can you tell us a little about the International Peace centre?
No answer
Can you tell us about the relation between the festival and the centre.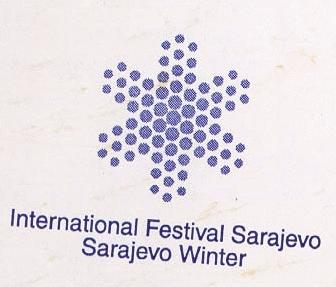 By organizing this festival we call upon the world to decide about freedom and peace. In that way the Sarajevo Winter Festival proves not to be mare a festival, but live itself. The international Peace centre is promotor of the sarajevo Winter festival
What is your opinion about the the efforts of that political involvement?
Mister Ibrahim Spahic runs out to answer another telephone call. On the telephone he answers some-one that the black sheep is their mascotte.
The title of the current festival is: Citizens of a Metropolis. We will have a international meeting in Hollland on the first of Mai. This seminar will have the subject Global Village. A Question will be: Are the villages going to be connected with the global town or are the citizens of the tows in the world going to be more isolated and therefor become more like villagers. (this is of course connected to the use of information (internet, TV etc) Could you give us your thoughts about the Global Village.
Even his friend, the bosnian embassador in Sweden, present at this meeting hears the question, but has no time answer.
We'll get back to this.

Uiteindelijk zijn we zelf een paar maal gaan kijken. Hoogtepunt voor mij was het concert van het Willen Breuker Collectief. Veel Nederlanders in de zaal maar ook zij werden op het verkeerde been gezet. Hoe prachtig, als je geen woorden nodig hebt om de mensen eindeloos aan het lachen te brengen. Ik had een paar Bosnische mensen uitgenodigd waarvan ik dacht dat zij dit zeker niet mochten missen. Aan het eind van het concert zat ik nog helemaal in de sfeer van de muziek en was stomvergeten dat ik in Bosnië, of waar dan ook was. Pardoes begon ik in het Nederlands tegen m'n gasten te praten. Ik vroeg hen of ze nu iets meer begrepen hadden van de Nederlandse vrijheid. Blijkbaar is alles over gekomen. Het antwoord was in koor: Lekker, Lekker, Lekker.
Sarajevo Winter Festival
International Peace Center
Ibrahim Spahic