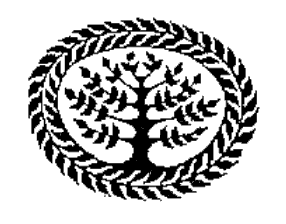 Tinja - donation project
[with a POO help]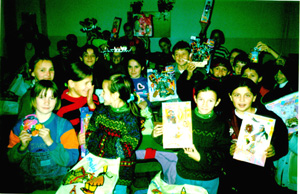 The Tinja school had almost 400 children. By now the number of pupils tripled because of the many refugees from Srebrenica region that live in the Tinja region. This report is small, you can't even call it a report, because soon a bigger report with pictures, written by the volunteers who transported the donated materials will be published on the POO magazine.
To donate materials as humanitairian aid is a good job. Unfortunately it is also misused by businessmen who dumped their (chemical) waste or use humanitairian transports to avoid paying tax. So we faced the Bosnian borders for 5 days. Seven people worked for three month in Holland, three took a week free to drive all the way to Bosnia, receivers worked a week, had to stop there real job and we hired translators to get things done. And we had to face this burocratic battle with the volunteers who drove the truck. The amount of stupidity ( from the coordination side as well from the burocratic side) we faced was enourmous. At the end it gave the volunteers enough time to deload the truck, leave materials for the Blind institute in the custom depot and go home immeadiately.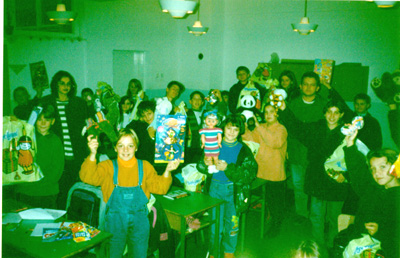 Now I'm just a little man with small brains but I have learned that Bosnian people, and Balkan people in general, like it, when you come to Bosnia, you also take time to meet the soul of Bosnia. To me that attitude it realy good and very human. It is my wish that volunteers who bring humanitarian aid also get the possibility to meet Bosnia and not only the custom offices. I hope the Bosnian authorities will go and see that enourmous burocracy besides the export of natural minerals and supplies will not help the devellopment of Bosnia Hercegovina on a long term. Now, it is much more easy to do business in Bosnia than to donate humanitarian aid. For volunteers who come and bring many materials for a school with many refugees, that's quite strange. But this country could really have a lot of profit from strangers if they give the strangers the spirit that lives around here. Is this tourism or is this real life, I don't care how you call it. My suggestions might be an illusion, but what the hell. I've been working 15 years to make dreams come treu and I will continue.
Besides that I learned many lessons to support volunteers and humanitairian transports to work accoording to the soul of Bosnia, and not according to the burocratic rope. More transports will come up and we shall see if we learned our lessons well.