SOS Childrenvillage

As we were going to Dobrinja, we see a new built settlement, a block of houses which are unusually fresh and joyful. The population of the village are mostly children. In spite of death, there is a new life born here. On Mojmilo hill, between the Olympic settlement and Dobrinja, SOS Kinderdorf-Children's village- is placed. It's calling us. e accepted the invitation and came. Our host is Jasenko Sokoljak, the manager of the village. The conversation begins.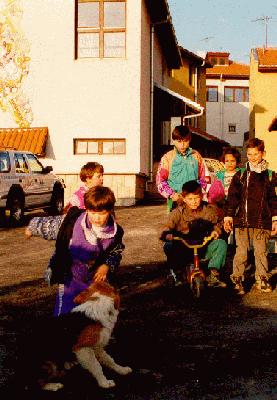 Can you tell us something about the existence and work of SOS Kinderdorf organization in BiH and in the world?
SOS Kinderdorf was founded in 1948 by Herman Mainer. He made three houses in Austria, for children without parents and children without parent's guardianship. He did it on a very original way-he sent descriptions of his ideas to thousands address' in Austria, and asked people to give only one schilling for that children. Reactions were so great that Mainer made the first village in Austria, and later the first village out of Austria. Today, in 1998, SOS Kinderdorf International, exists in 128 countries. Actually, it is hard to name countries in which SOS Kinderdorf does not exist. The main task of this organization is to take care of children without parents' guardianship whether they have parents or not. Children without guardianship can come to SOS Kinderdorf. Organization is raising children in family atmosphere and that is different from other institutions which support collectivism and children's homes. Children who live in family atmosphere grow up to be sane personalities, it has shown in previous 50 years. Every SOS Kinderdorf family has it's own house, and lives with SOS mother, who takes care of six children on the average. In countries of Asia number of children is bigger, for example in India it is ten, but in Europe it is never more than six. SOS Kinderdorf usually does not deal with children over ten years, but there are some exceptions in cases of receiving brothers and sisters. We never separate children. Either we take them all or leave them to find another way of taking care of themselves. We work in accordance with local regulations of each country. Children are sent to us by governmental agencies and social work centers. They send us request, after that we have a medical checkup of children and than we decide if we will accept them. This may seem very cruel, but as an organization we can accept only healthy children because one mother takes care of six children so she does not have enough time for a child who needs more detailed care. That is what our project is like.
Who initiated building of Children's Village in Sarajevo, and were there any problems in realization of your ideas?
SOS Kinderdorf in BiH exists since 1994, and during the occupation we had so called "Emergency program". Actually, there were two programs. One was helping diabetic children who did not have medicines and instruments they needed. The second program was financial help to families who took one, two or three children without parent's guardianship. During the war we had organized two clubs for children and youth which were settled on two locations-Otoka and Stari Grad. Those clubs worked very successfully, they organized to do something creative and in that way they made them become musicians, talents for art, design…Because of the big number of children without parents without guardianship, there was this idea of making SOS Children's Village, and contract about building two Children villages in BiH was signed. One village is in Sarajevo and another in Gracanica, near Tuzla.
Sarajevo and Tuzla received the biggest number of refugees during the war, and that fact was the main reason why villages are located there. Capacity of the Children's village in Sarajevo is 90 children and in Gracanica 70.
What philosophy is behind work of your organization and what are main ideas that SOS Kinderdorf propagandize through it's work?
The main idea is accepting children without guardianship, their education. We try to find a job for every our child who finishes school, and we guide him for some time, until he stands on his feet. So, we take children without guardianship and try to make good people of them. The president of SOS Kinderdorf was also raised in our organization. We have four principles in our SOS Children villages: SOS child, SOS mother, SOS house and SOS children's village. Those principles are base of our work. A child is the most important.
What are experiences of SOS Kinderdorf in accepting and raising children all over the world, and what are you expecting from your work here, in Sarajevo?
Most of accepted children finish secondary school and faculties, They are welcomed to community, they have normal marriages, without traumas and they are capable for life. They are raised in family with family rules, and their mother gives them culture and education. That concept is based on love, and mother and child accept each other very fast. It is the greatest thing a man can see. Child gets so attached to the mother and simply can not live without her anymore. It is given to us from God, and all our work is based on it.
What are the results of existing of the Children's village in Sarajevo?
Building of this village started in September 1996, and the first family moved in in February 1998. In the meantime, SOS Kinderdorf took care of four children in rented apartments. Today we have 24 children in the village, and I hope that by the end of this year there will be 90 children
What is the future for Children's village, and how do you see it's further work in our society?
Unfortunately, there always were and there always will be children without parents. The future of this village is safe, I can say that children in SOS Children's village are happy children. They perfect parents care, possibilities for education and development of their talents and I think that SOS Kinderdorf's Children's village in Sarajevo is going to be one of the prettiest and most successful in the world.