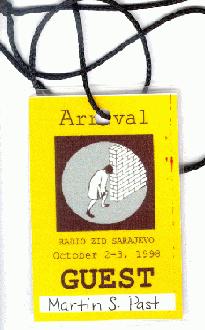 Arrival at the train station.

There was a concert at the beginning of this month. And it happened in Sarajevo, which is hard to believe, but it's true. It does not matter that a choice of bands was not in my taste ( with two exceptions ), but who cares. But that is not so important. Those two October nights were perfect to catch a piece of energy which had once existed in this town.
Radio ZID, local radio station, in cooperation with the rich, organized a concert at the train station which is mostly destroyed. The concert was symbolically named "Arrival " .
The idea was to bring life to the train station, which is now completely empty. The idea was to get the divided people in one place. And also, to get some money for station's rebuilding. Since I was dealing with certain music, smuggling, dealing business, I can state that we had all kinds of weird people with different languages and accents coming to our desk. Idea worked ! People came, and the money... I never did have an intention of getting involved in that .
Ah, yes !
During two nights, there were performances of GHETTO, BEASTLY SROKE & SIKTER ( Sarajevo ), GOBLINI (Sabac ), KOJOTI ( Zagreb ) + PIPI DUGE CARAPE ( Sarajevo ), NECASNE SESTRE (Tuzla ), ATHEIST RAP (Novi Sad ), CHINA DRUM ( outsiders from UK, played here 2 years ago, but were much better then, and KUD IDIJOTI ( Pula ). People had fun, some more some less, had a few beers, and there was also a video projection from Rock Under the Siege concert, held at the beginning of 1995 in Sarajevo ( when the CD was made ). That was just to remind ourselves and laugh to our looks 4 years earlier. War starved ghosts - same reaction of all the present.
Pleasant nights.


MESS 1998

On October 14, in Sarajevo began this years' MESS - international festival of small and experimental scenes, 34th in a row. And then, on October 25, in Sarajevo finished this years' MESS - international festival of small and experimental scenes, 34th in a row. It was open by Macedonian theatre show, called " Motherfucker, who started first ". MESS managed to bring over 500 artists from 17 countries and the leading and OFF program offered some 25 shows.
These would be, often uninteresting and irrelevant, burocratic data. More relevant, important or interesting is the commitment and eagerness that MESS organizers put into this project year after year so it gets better. And to make something like this happen in Sarajevo, takes skill - starting with financial problems to those that can not move from the bottom of primitivism. For example, last year accusations made by the authorities, concerning the money spent for the project. Supposibly, the purpose of the project was questionable while " ordinary " people have nothing to live on. Absurd and sad at the same time. The connection between theatre and social politics was never explained. But that's not MESS' problem, but government's. And we'll talk about that some other time.