(UN-)USUAL HOLIDAYS 1997./98.
---
Every year, December brings once again all those cheerful days of expectation. Many ordinary mortals in Bosnia and Herzegovina draw a line under the past one, and look forward with hope towards the new year. What shall bring us?
All those holidays(?) bring also those dear moments with your loved ones, and a special feeling in the air when you walk down the streets of your hometown. You feel all that lively surroundings nearby. Or, maybe you don't feel them at all. This previous sentence would be unnecessary if this text was to be written before all that has happened here in the past five or six years.
For the beginning of this article I've chosen, not accidentally, an anecdote from our last trip to Tuzla. It was in the middle of December. I was walking through the old part of Tuzla with a friend of mine who lives in that city, when two of his friends stopped to say hello:
"…we'll come to your place to celebrate Christmas."
"You may come, but I don't celebrate it. And even if I was to celebrate, I'd have to celebrate both of them - I'm from a mixed marriage. But you guys drop by anyway."
"It doesn't matter if you don't celebrate'em, we'll make parties on both of them."
"OK. But you won't pull out on me in Bajram. For three days we're gonna be drinking. For those three days you're mine…"
"No problem. Where are we going to be at New Years Eve?"
"Man, you're in a hurry! There still time enough for it… We'll arrange something. See ya."
I hope my friend won't mind me interpreting this, but this conversation was music to my ears and I had to mention this. To those who think that this is an ordinary conversation and wonder why did I write it - to them take a bow. I'm glad we agreed. But, unfortunately, there are some people in BiH which, for some reasons, don't feel pleased with this normal, free from anxiety conversation. Well, if such people come across this article, let them start pondering. But such anecdotes will exist, with their sarcastic comments or without them!
When I got back to Sarajevo, I've heard stories about how the city itself should look during all these important red letter days. Some said that the city should be adorned for everyone's joy, some said that it shouldn't - not spending money at these times and possible problems were their main reasons. Anyway, Sarajevo was awaiting for the upcoming holidays in partially new garments. Some cafes and shops were full of decorations and labels stating discounts.
CATHOLIC CHRISTMAS
The holiday's rush officially started with the Catholic Christmas upcoming. For the occasion, the Cantonal authorities made an order to put two Christmas trees in front of all catholic religious objects, and the place in front of the main Cathedral, where the traditional main celebration is, looked almost unreal. Two beautifully adorned Christmas trees gave a new note to its marvelous structure. Strossmeyer street, which leads head on to the Cathedral, was fully ornamented.
Personally, I don't celebrate any religious holidays, well not in religious means precisely, because I can't find myself into any religion. But that night I got out with my friends to the traditional midnight mass in front of the Cathedral. People in Ferhadija street (the main promenade in the center of the town), a crowd of people which I don't usually see at that time on the streets. Usually I can't see anyone in the streets at that time of night. I stood with my friends on one place for half an hour, and in that period I saw half of the people I haven't seen for the past month or two. Some of them celebrate, they're happy when I compliment them.
All in all, it would be just another merry Christmas, if it wasn't for some individuals distributing leaflets stating that Moslems should not celebrate with their neighbors, acquaintances and friends which are catholic: "…they should not be complimented…(Moslems) should not gather together with them on the midnight mass…". Those bordered individuals seem to have a brainwash about the fact that there is a tradition in this town for PEOPLE to celebrate together in their unity and differences.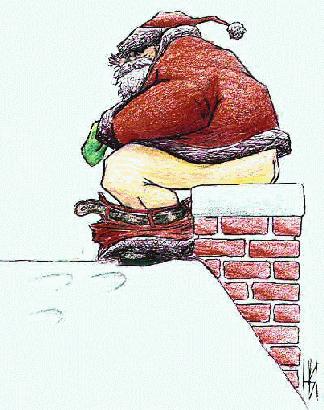 NEW YEARS EVE, THE BEGINNING OF RAMADAN
A normal thing to see, and a tradition for the last day in the year here was Grandpa Frosty (a replicate of Santa Claus, but 'unreligious' ,giving presents on New Years Eve) and giving the new year's presents to all good children. This year also, that likable figure showed up in the streets of Sarajevo in his hackney-carriage. But this time he was attacked, and it happened in Grbavica, one of Sarajevo's settlements. A cheerful crowd: red and green Grandpa Frosty, a clown and a cab driver were giving candies and ….. , when a young man approached them, swinging a brick in his hand.
"Get out of this town, what are you doing here!?", he shouted at them, hitting the cab with a brick. The attacked ones say that he was beside himself, either drugged or drunk, but my question is: "What led him to thoughts like that in the first place?". Maybe I know the answer, maybe I don't, maybe I don't want to know.
"That was a close one. We didn't argue, we just withdrew peacefully and majestically."- the attacked ones laughed.
No matter what, the new-year's gifts giving with an adequate program was provide to all interested companies and individuals, and those who wanted to, really could have had a good time.
The first day of the new year this time also meant the first day of the month of Ramona, a month of spiritual purification. This month, the holiest of all months to Moslems, with itself carries a 28-day's fasting. I wished good and proper days of fasting to my friends and acquaintances.
The fasting, normally, left trace on few of New Years Eve's parties. "…New Year's Eve was really weak, dark, people on parties gloomy - more food than drinks…" were some of the comments a friend of mine had. But, all that couldn't affect my party-bunch. There were, of course, quite some people who weren't drinking alcoholic drinks, but that hasn't made one bit change to the mood everyone was in. Each of us celebrated on his/her own way, yet again we were celebrating together. With or without liquor, good mood is what's really important.
The month of Ramadan was continuing. Every day, after sundown, the shine from the minarets of Sarajevo's mosques were an ornament to the town on the banks of Miljacka river, reflecting on their own, special way, the light that Ramadan brings to believers. After fasting for the whole day, Moslem families gathered each time for iftar (the first allowed meal after sundown).
Ramadan ends with Bajram. Ramadan Bajram or Kurban Bajram, which changes in regularity. At Bajram families come together and celebrations are organized. At Kurbam Bajram lambs are slaughtered, families visit the graves of there died relatives and last year you could here some machine guns of joy on the hill of the town. Bajram is the religious biggest celebration in Bosnia. This years (Ramadan) Bajram went on without problems. Last year there where many bombs that exploded and several people got injured in Mostar during conflicts between different ethnic groups.
ORTHODOX CHRISTMAS
The main ceremony of celebrating Orthodox Christmas was in the old orthodox church at Bascarsija. Like in all other previous celebrations, TV greetings followed from various officials, representatives, companies… Unfortunately, I don't see too many people in Sarajevo (the Federation side of it) who could receive these greetings. By saying this I don't want to provocate anyone or anything, but the fact stands as it is, and the causes are more or less known to every Sarajevan. Maybe the Declaration will bring something new to the whole thing. We'll see…
Congratulating my rare friends who really celebrate this holiday brings to me once again
Orthodox new year
Due to another calendar the orthodox celebrations take place approximately two weeks after the catholic. Unfortunately we were not in power to visit all these celebrations and about the orthodox new year we do not know more than that in general as much alcohol is used an on the Catholic new year. We were two days after in Banja Luka and people still had forms of headache