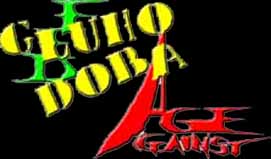 The band was formed in Zenica in December 1993 as a street rap improvisation under the name "Gluho Doba". In February 1995 they significantly changed their musical orientation and changed the name of the band into "Gluho Doba Against Def Age (G.D.A.D.A.)".
Together with infinite number of street performances, they have had seventeenish official gigs in Zenica, Tuzla, Sarajevo and Travnik.
In April 1996 they went to France and did four gigs at the "Le Printemps de Bourges" festival. In the August of the same year they performed at the "Remember Hiroshima" festival in Bern, and in September on the festival "Ziva" in Bourges where they have also played in several nightclubs.
In February 1995 they made two demo records ("Do you really love me?" and "Destruction") in studio "M.A.T." in Tuzla. During their stay in Bourges in April 1996 they made another four demo records in "Pekor Product" production - "Make a choice", "Reggin'", "Highwayman" and "Face in the sky". In June 1997 they did video "Face in the sky" produced by TV Zenica.
The band orientation defies classification in any single musical direction, although it is possible, from song to song, to recognize various influences (reggae, punk, ethno...), but a slight domination of rap is evident.
The band is made up of three male and a female vocal, two guitars, a bass guitar, a drum and a keyboard.