Forbidden Fruits of Civil Society
fEstIv@L
[diary]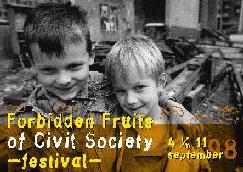 In organisation of Peace Office Outpost and Association Ambrosia about 40 people of different occupation (from cheap musicians to high judges), from different parts of B&H, and about hundred more from few other European countries, took part in FF festival which was organized by a group of Utrecht squaters (hello people :-). Festival took place in Utrecht, and later in Eindhoven (both Holland), from September 4`th to September 13`th of this year. 43 of us (total number was 125) took part in 6 concerts, two exhibitions, one theater play, one poetry performance and information programs on festival. All BiH participants had their part of the show in Eindhoven. If you are interested in a complete program of the festival, move your mouse on link that says [ FF PROGRAM ]. Beside the festival, there were 13 extra concerts (4 of them were in refugee centers) and "live" radio program on a national radio station. Meetings with International Organization for Migration (IOM), members of NL Parliament and many refugee organizations were included in presenting program for JOB 22 organization (BH refugee servis). All details about that part of outreach program are available with only one [ KLIK! ]. This is some kind of a diary about this trip which was more than interesting for some of us. I hope.
[Thursday, 03.09.]
Departure was ment for 8 a.m. from the parking in front of Holliday Inn hotel in Sarajevo.The bus we had rent from "company" Bosna Tours from Zenica, should have waited for us. When we went to Zenica, few days ago, to see the bus, their director showed us a photograph and said "This is it." So we hoped it will not be a kind of bus like in legendary Slobodan Sijan (famous YU film director) movie "Who`s singing overthere". We only saw the bus on the photo and we hoped it would look like that. The bus was there and people were there. We put our lugage in the bus and said "goodbye" to people who came to see us of. Impatient taxi driver ran over Nedim's travelling bag. His coment was like: "He crushed my stakes and milk, motherfucker!" Too late. After few events more, we departured. Everything looked unreal. We were in the bus, it worked and even had a tape recorder. It`s working!!! But, half an hour later, police told us to leave the highway and use a road. And after the road - a macadam. Which leads to who knows where. And then we had to stop - there was an immense line of trucks and buses in front of us. We were in the middle of nowhere and chances to depart were very small. It started. Our traditional bad luck. Country environment. We steal apples from gardens and sit with village dwellers to have a drink. And some woman was telling us that Ivica Osim (famous BiH football player) is her son in law... Yeah, big deal. Trucks gather behind us. If this continues, we will not leave for another two days. But after an hour, common sense proves to be a good thing , we manage to turn the trucks behind us back (they transported soldiers to military training). We went back to the road, and than to highway. Everything is allright. Before entering Doboj (enterance city to Republika Srpska) we stopped and went out to pee. Bojan was filming us with a video camera. Nothing unusual, at least we think so. And then, about 100 meters futher there is an UN checkpoint. They don't allow passing by. They want the camera. Someone filmed something in area where filming is not allowed. We spent another hour fucking around with them. They want the camera, we don't want to give it, + we think out the worst curses for Denmark ("motherland"of soldiers who stopped us). After we understood that Dayton agreement means we can't film ourselves while we pee in our own country, we give them the tape. We go on. Croatia, Slovenia, Austria, gas stations, trip, sleeping... [Friday, 04.09.]
Morning. We wake up on a gas station,who knows where. We are persistant to find out where we are, and the driver gives us very impressive answer:

"Where? How could I know that." Later he told us we were at a gas station in Germany. Ha, smart one! The rest of our trip was more or less successful in finding roads to our final destination - Utrecht. We enter Holland, and again-gas station. Waiting. We wait for Martin (he left Sarajevo with his limousine), who should take us to Utrecht and the club which is something like a central FF meeting point. We waited him for 1 & 1/2 hours (Tired of Waiting of NO MEANS NO was probably the biggest hit than), and wait, and wait... Martin came. Highway again. In unreal ways, through the streets which are narrower than our bus, we came to Sophie`s Palace (we called it ""At Sophia's", of course in our language - different sense, sorry). After a warm welcome (our Dutch friends reheated our lunch, hehe...), we unpacked our things and then had our lunch. Friday is the first day of the festival. Vulles (Holland), experimental theater + two Polland Dj`s and local techno acid band Pelle en OK on Acid had their shows at Sophia's. Most of us avoided that, we desire to replace the bus where we spent 40 hours with bed (flours, sleeping bags...). One more day is over. [Saturday, 05.09.]
Mizzart, Stripcore Stripbuger and similar, open a comic strip exhibition at Sophia's which should last 7 days. We drag our equipment to Moira, where we should have a concert tonight. Pessimistic Lines (B&H) are the first to play. They start, although there is no more than 10 people present. People start coming. Deca debilane (Slovenia) are the second, with half an hour of experimental noise + Ranko the Killer (B&H, one of us) who had his "shock&dance"show. Then Lolita (Slovenia) who plays jazz-rock. People had a briliant party time & dance with their music, so that was cOOl.. At midnight it is over. Home + bed, again, thanX god! We`re tired, again. [Sunday, 06.09.]
At Brandweerkazarne, a seven-days exhibition with artists from Yugoslavia, B&H, Czech Republic, Greece, Sweden, USA...is opened. We go to Ledig Erf, tavern on the sqare with the same name, where Peche Piri Piri, inspired with afro-rhytms, have a concert on percussions.Then Sinisa (the flute player - god bless you where ever you are now) and Neso & Taso of Ambrosia have a jazz-improvisation. Instead of Dertum, band maded of bosnian & macedonian reefuges(by the way, they couldn't get visa`s because they are refugees in Slovenia and don't have steady jobs. How can a refugee get a steady job (legaly) in country he lives in? This is a question for ruling structures and there are some more questions for them, about some people from Kosovo, who also didn't get visas.) , the girl from Lolita plays with some guy, as a violin - contrabass duet. That is the end of program for the day. For us. Theater Gromki (Slovenia) has a performance at 22.00 , but we miss it to have some sleep. [Monday, 07.09]
Third day of festival, beside cycling (what is compound part of life in Holland, with black - white cows) offers: discussion about social movements (At Sophia's - it was a central place of the festival - restaurant, kitchen, bar, toilet...) where KURF (Holland), KAPA+ Skrati (Slovenia), ATTACK (Croatia) + Neso&Ranko (B&H) took part, a team which spent few days to talk about different issues. There is an exhibition + tatto workshop at Huis a/d Werf. This program lasted few days also. Kiselo Grozdje (Slovenia) - hardcore with emo influences, and Strahuljari (also Slovenia) played at the evening concert in Sophia. Strahuljari were really brilliant. Still kids and so good. Their music is on trace of Duul Shicksall, Ne Zhdali and similar east-European "cartoon" fellows. They were the best band on the festival. Reactions of audience was somewhere between enthusiasm and unbelieving. After that Cios Ponizej Pasa, Polland industial band, cold and massive sound expression, and after that Ambrosia (B&H) had their multimedia performance. Industrial music, theater, video...and then some jerk tried to steal my bicycle and I had to go out so I don't know how it ended. During this concert there was a WONZ theater (Holland) performance in MAU , but I didn't see it so I don't know what happened there. [Tuesday, 08.09.]

Tuesday had the same contents as previous days - exhibitions, tatto workshop, discussion (about media) and theater at Huis a/d Werf. Divaldo Pruvan (Czech Republic), Alies (Holland) + Ambrosia (B&H) were on program. To be honest, I wasn't really in Utrecht then, so I don't know... [Wednesday, 09.09.]
Beside the usual, in squat UBICA (what a peaceful name, means killer in our language) there was a discussion about info shops, with usual participants. The evenung concert was in a big hall Tivoli, great and impressive place. The bands who played were: Peep (B&H), Serbian punk colleagues Six Pack + 2227 who were the last band that night. There were not many visitors (behid the fact that Utrecht was completly faced with posters for a show), most of them were familiar festival faces and few more strays...Tone master didn't do his best, or - he did his best to permanently damage hearing aids of people who came, with equipment which lokked like a space ship. Before the end Dino & Mirel dj`s of Radio Zid (B&H) played some music. [Thursday 10.09.]
Thursday's discussion at Sophia's was about micro fascism, and beside the usual participants, CESTA (Czech group) took part in the discussion. Night program offered two things. At Huis a/d Werf there was a theater show with Skirocore (Slovenia), Ranko the Killer & co (B&H)+ Sythi (Yugoslavia). At the same time there was a concert at Sju Jazz podium, the bands which played were: Kaiten (B&H)+ great, brilliant and very good friends Sabot (Czech Republic). [Friday, 11.09]

Friday was the last day of Utrecht festival and the last day of hanging around with all great people we met during those days. The best way to end the evening and the festival itself, was in Sophia, where the first thing happening after dinner was poetry performance by Ranko the Killer & Co (B&H). And then Sarajevo Drum Orchestra, Also known as African drumers. Enchanting rhythm of African jungle was not so enchanting for the chilly Dutch. But we, Balkan boys, had a good time. And then the Ornamenti, also our fellow country men, techno ethno, for the end and seeing again. Special part of the evening were happenings at the bar, where, thanx to alcohol, it was very cheerful. Great night & nice way to end this part of festival.. [Saturday, 12.09.]
After sleepless night, we meet our brothers Slovenians and Croats in front of Sophia in order to pack things and put them in the bus. And then the unkind Holland rain decided to play with us. As we took the things out , the worst rain storm of my life has begun. It was interesting to see 20 people trying to load their stuff at the same time, through 1m wide doorway. Few minutes later, rain stopped and we got on the bus. The end, goodbyes, kisses, tears and hope that we'll meet again soon. Slovenians and Croats are going home and we to Eindhoven for the next 2 days. The time has come for advantures with our good and very old bus. Everything would have been OK (maybe) if our drivers brought the map of Europe, but they didn't ( but they bought the washing machine for 125 guldens). Following who-knows-whose instructions, instead of South we go East and enter Germany. People are beginning to panic, but the " sensible" driver is trying to calm them down - " What Germany are you nuts..." From the moment drivers realized we were REALLY in Germany, to a place where we can turn around the bus, it took us 30 minutes (after already lost 90 min.). And back. Holland. First gas station. Asking for instructions, explanations, calling Martin who is who-knows-where, and than... we're moving on. We pass Arnheim, after which we're suppose to take turn to Eindhoven. We take the road, but the wrong way. We go North, instead South. People are loosing nerves. So are we, while trying to find the right way, with the drivers. Time is passing. Finally, we're on the right way. According to traffic signs, Eindhoven is getting nearer. We arrive but we can't find the way into the city. We stop the bus. Neso, driver and I are trying to stop a vehicle and ask for directions. Chances of someone stopping for a trio looking like group of killers, people who just survived a nervous breakdown and bears who just woke up from their winter sleep, were minimal. Still, thanx to incredibly lucky circumstances, we manage to get into the city and than a new problem. How to find the club. We're close, but the road..? Taso, Celo and I go by foot. Taso, for the last 5 minutes, keeps saying that 2B is around the corner. At last. We're there.

2B's go to get the bus. After 5 hours of travelling we reach our destination(usually, the trip from Utrecht to Eindhoven lasts about 60 min, except in our case). Tired, we go to Burgers (local club / restaurant, suddenly renamed to Bureks, although there is no trace of burek (our local fOOd)) for dinner. Program is performed in already mentioned 2B which is made of big factory hall, small club and a yard with three adorable dogs (mom, dad and sonny boy). Program consists of 2 parts - in the hall is Romeo and Juliet, show by Ranko theatre, BH video projectoins and SA Drum Orchestra concert, while the concert is in the club. Pessimistic Lines, Sabot, 2227 and in the early morning hours, jazz for still awake - Kaiten. We go to very much deserved sleep. [Sunday, 13.09.]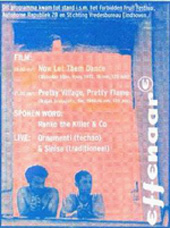 Next day wasn't too exciting. Exhaustion on faces was more than obvious. Another discussion about micro-fascism +InetWshop in Burgers. In the evening, in Effenaar, concert of Ornamenti, Ranko's poetry performance + film "Before the Rain". We split arranging the meeting at 8 a.m. in front of 2B, so we can pack. [Monday, 14.09.]
Naive or not, but I was the only one to show up at 8 a.m. Half an hour later, the others arrive. Morning coffee, packing, greetings, tears... and hope that we`ll see each others again and soon. Hard to believe - we are going home. And we buy a lot of food, you never know. Most of us, worn out by previous days, decided to go to sleep. Me too. Untill 17.00 when I was woken up. What we all secretly expected and prayed it wouldn't happen -the bus broke down. Miles behind Frankfurt. Troubles have just begun. Police arrive. In civil outfit, but it's obvcious they're more dangerous than they look. They called the mechanic who charges 375 DM for the information about broken gear lever, and now what... Lost on a highway. We're waiting for Martin, who left from Eindhoven at 17.00. At least, he has a mobile phone. He shows up. Another vehicle from the mechanic shop comes. "Ultra modern bus" does not have a hook which could get it to the shop. We're trying to get an alternative transportation from the director of the Zenica bus company. But, that's impossible at 21.00h. Especialy not in Germany. Still. there are promises we'll continue the trip in a new bus. Third vehicle arrives. Attempts to lift the bus and take it away don't work. The bus is too low. Somehow, that becomes possible and the bus is on its way to mechanic service. Five hours after desperation on rain and highway. It is 22.00h. We arrive at mechanic shop which is closed till the morning. We park the bus and go to sleep trying not to think of all the things waiting for us on the way home. [Tuesday, 15.09.]
We're awaking. No trace of a bus that was promised to be there at 8 a.m. We enter the service and discover WC with hot water and a bar with a 90 pfenig coffee. Poor, but still a consolation. Talks with Zenica bus o. turned out to be absurd. Someone really cursed us. From Zenica, they want confirmation that Bosnia Tours will pay, Zenica says sent the confirmation but Frankfurt says they got nothing. We're on the edge. But, 21 hours after we stopped on a damn highway, a bus shows up in front of the service. Surprise. As fast as we can, we get into a new bus, leaving the broken bus, the drivers and a washing machine bought for 125 guldens, behind us. A dream. We cross the borders without problems. Imagine that! [Wednesday, 16.09.]
We're awaking at our "home land" gates.
Just a couple of hours more.
We're in Sarajevo.
It is 5 p.m.
We arrive at the bus station.
Our 14 days voyage is over.
See you again!
[DK]
---List BiH participants--- Association Ambrosia (7)
Sarajevo Drum Orchestra (8)
Ornamenti (4)
Pessimistic Lines (3)
Kaiten (5)
Peep (4)
Ranko the Killer
theatre & poetry (5)
Sanja Sosevic & Semo Habibovic [painters]
Mirel Hadzijusufovic & Dino Zulumovic [Radio Zid]
Zdenko Eterovic [JOB 22]
Amir Telebecirevic [info section]
Bojan Mulic [camerman]