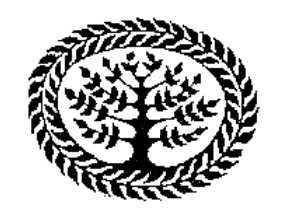 :>FILE UNDER: CULTURAL PROGRAM This month was the first real active month of KOLEKTIV cultural organization. And that is good because the local people must build their live. KOLEKTIV started strong; four live music events and regular radio emission. Since the name KOLEKTIV is used local press shows interest and the result was smashing.

At first the English group GUAPO played in STELLA, a small jazzbar while GUAPO is quite a noisy band. Than TOAD played in REMBRANT (what we call AT FADILA'S - KOD FADILE') and by then the people in town knew what was going on. Before war situations with an overcrowded bar, people in the hall and outside on the sidewalk made everybody present as happy as it could be.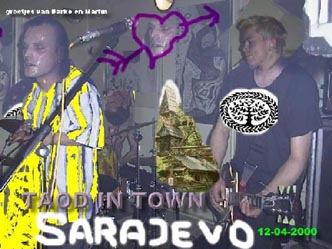 TOAD, a Dutch melody punk group stayed in the POO guestroom. They are nice people. The new POO guestroon is a little noisy if you have an afterparty with 10 people. So the guys (and girls) went to their combi to party and saved us a bad realtion with our neighbors.

This program was followed by the KARAVAN SARAJEVO festival in Ljubljana. As second part of cultural exchange between to cities (in september of 1999. people from Ljubljana visited Sarajevo) 16 people went to Ljubljana to perform in METELKOVA MESTO. NEW FARADAY COLLISION played their second concert and their bizar Punk Jazz was amazing and surprising. AAM played a concert annex performance in underpants which was really funny and musically quite nice. Some kind of techno rap music but pretty relaxed. AMBROSIA ART & DESIGN GROUP also decorated galleria ALKATRAZ. A selection of 5 poets (Dinko, Belma, Alexandra, Martin and Igor ) performed under the umbrella of ALBUM and NEUE URFORM made an installation.

There was an information program about fanzines and about problems and possibilities for the disabled. Unfortunately Faruk Sabanovic from the CENTER FOR SELFRELIANCE did not go to Ljubljana himself and that part of the program was well visited but with only a little information. The complete festival was completed by program initiated by people of the three clubs and galleries inside METELKOVA MESTO that particiated in the festival. For example a great film program from the 'festival of cheap film' was presented with very intersting material. Besides this we have seen the Ljubljana nightlife of which I thought it didn't exist. But obviously I was wrong.

A nice and relaxed festival with real helpful conditions for the artists and with a great understanding from the people from METELKOVA MESTO which made the complete weekend extremely good. Obviously you do not have to do special things to be just good, and luckily that was the case in all matters. KOLEKTIV made good friends and many new contacts.

KOLEKTIV www report on KARAVAN SARAJEVO available on KOLEKTIV

Finally there was the EURO TEFERIC program. Teferic is actually a local word for having a barbeque next to the road, having a good time in the open air. Euro Teferic is a program in which showing people the country is as much important as getting maximum audience and media attention. Two act appeared on EURO TEFERIC. HARRY DEN HARTOG is a Dutch avantgarde musician more known in Slovenia than in Holland. He played his squeezing sounds and unpredictable vocals in endless tempo. The other group was ZOAMBO ZOET WORKESTRAO, a bizar but very intelligent band from Ljubljana. We do not really need to say much about this group. They travel as much as they can and they play superb so go and have a look whenever you can. ZOAMBO ZOET WORKESTRAO is ot easy to forget.

All KOLEKTIV program was performed in Sarajevo and other places in Bosnia and Herzegovina. For example concerts were organized in Mostar, Banja Luka and Bugojno.

KOLEKTIV www raport on EURO TEFERIC available on KOLEKTIV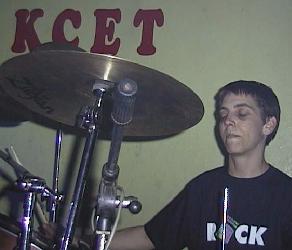 There was a group called SABOT. These are Americans living 7 years in Czech Republic. Magistral bass and drum duo in the classical sense. Real bass with real fingers and real drums with real muscles and real touch. Chris and Hillary traveled all the world and made this introduction in the Balkans. They played YU, HR, SL and only two concerts in BiH. In Sarajevo they were helped by the guys of SARAJEVO DRUM ORCHESTRA but the venue wasn't really great and there was very little audience. The waiter passed the stage every 5 minutes to serve the few costumers. In Banja Luka they were more succesfull but obviously a group like this needs some time to get accepted by the people. So I hope they'll come back. They came with some DJ's from Germany but their equipment was refused but the custom officers so finally they rented a toilet were they stuffed their material and came with nothing. Sabot thought they needed to play longer because of that and that'swhy finally the people got a little too much. Personally? I'm a great fan of such a music and I can dream the songs while hearing them for the first time.

Another form of organizing is shown by the British Council. They organized a concert of the group e2K in the national theatre. I do not know who comes but I'm quite sure nobody in Sarajevo knew this group before but than, all of a sudden, there are many many people who want to see it. The national theatre is of course a great place to be seen. The musicians, playing a mix between Celtic folk, African music and pop music were announced as best of Britain with awesome reputation and impressive skills. It was said: music from the global village. But I hope that was all propaganda.. If this is the best what Britain has to offer I'm sorry for them. The global village is obviously not much bigger as the music school.

Actually a music program that is initiated to support British bussiness. Something like Michael Jakson but far not so big. Why somany people in Sarajevo want to see this is still unclear to me and with the budget used many things could have happened. For example supporting Bosnian profesional musicians so they can make a living or a space for people like KOLEKTIV.

Am I pissing off somebody over here? I thought so! But don't worry if you do not care.