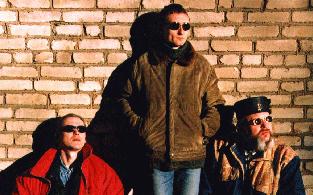 Troitsa Tour Report
07 08 98 Introduction
Tourlist
Problems and results
Financial report

Troitsa is a contemporary folk band from Minsk, Belorus. The group came in contact with people from the Peace Office Outpost through a cultural exchange manifestation between Foundation 6th Column (Eindhoven, Holland) and Next Stop New Life (Minsk, Belorus) in 1996.
Employee of the Peace Office Outpost is also member of the board of the Foundation 6th Column and particularly working on concert management. After having organized a follow up tour for Troitsa in 1997 the request came to organize another tour for this group in 1998. Since I put most of my time in working for POO and spending most of my time in BiH, I accepted the offer under the condition that Troitsa would also come and play on the Balkan. I wanted them to show Europe and not only the parts they like to see.
We agreed under the condition that POO will not ensure Troitsa to earn money for these concerts but to insure Troitsa not to spend any penny during their stay on the Balkans.
For POO this was an experiment; is it possible to set up a professional tour in Holland and Europe while having office in Sarajevo? Besides that: How would the different parts of the Balkans react to the fact the group would go to most places in former Yugoslavia and third, how would the group react psychologically to the situation in Bosnia Hercegovina, how far is POO established to organize such a concerts in BiH on a proper way?
Since POO wants to work with all it's projects with long term intention these four questions are mainly important.
Of course, having a band on tour, the group should try to play every day. The costs to come here and to go back home must not only be made to have a good concert in a great town. They are made to visit a country, an area, which now there is time to see, to get to know and to show your art (music) to. Therefor Troitsa had planned several concerts in Slovenia, Croatia, Yugoslavia and Hungary as well.
Although at the end of the financial report there is a separate part about the Bosnian situation only, this report speaks mainly about the 'Balkan' part of the Troitsa tour and not about the Bosnian part only.

Part 1. June 1998




6 	NL	Kiosk		Waarle	
7	NL	Virus Festival	Eindhoven
8	NL 	Paradox 	Tilburg	
9	NL 	de Welvaart	Den Bosch	
13	NL	de Hemel	Rotterdam
14 	NL 	de Balie	Amsterdam	
14	NL	Peper		Amsterdam
16/19	NL	Oerol Festival	Terschelling	
20	NL	World Roots 	Amsterdam	
21 	NL	Haarlemmerhout  Haarlem	
22	NL	Burgers		Eindhoven
24/25	D	AU		Frankfurt		
26	A	Kirche		Salzburg		


Part 2. June / July 1998

27 	SL	Mediterain Festival	Izola		
28	SL	EBU Festival		Portoroz		
1	SL	Hotel Europa		Celje
2	SL	MKC			Koper	
3	HR	Museum			Pazin
4	HR	KSET			Zagreb
5	BiH	KCET			Banja Luka
7 	BiH	BKC			Sarajevo
8	BiH	Pavarotti MC		Mostar	
11	H	Kalaka festival		Miskolc
12	H	Kolinda Festival	Sopron

Problems and results
part 1.
First to speak about some results in western Europe. For Troitsa it was very successful because being in Holland for the third time is seems they are capable of establishing themselves over there. This means having good festivals with goo accommodations, having a record label and distributions and having good reviews in newspapers.
For the Peace Office Outpost it is great to see the group is successful. It give an enormous amount of extra possibilities for POO as management office. For example POO speaks often with journalists (radio, TV and newspapers) because Troitsa doesn't speak English. In this time POO gets many opportunities to mention the fact it is a Sarajevo based organization and several times BiH became a part of the subject. POO got three invitations (IKON, national radio, TV reiziger, national TV and Trouw, national newspaper) to come back and only speak about POO activities. The question if it is possible to set up a tour in Holland with a Sarajevo based office could be answered positively. In fact I used less money on communication as when I set up the tour from Holland. The fact that I phoned from Sarajevo activated many people to speak directly right away.
Part 2.
Of course there is not a lot of money in the Balkans to support music and arts. Besides that not many people are willing to take a risk with 'not obvious popular' music. Who ever heard of Belorus music?
Because of this reason we made the agreement with Troitsa that the complete Balkan part of the tour should be seen as one. On this way there are possibilities to get a little money in Slovenia en Croatia, while getting nothing in BiH and Yugoslavia.
Troitsa is in a situation where they can not spend their earned money on some social concerts. The fact is that economically the situation in Belorus is much worse that in BiH.
On Balkans (excluding BiH, which will be reviewed in the next chapter) finally there was quite some support for the group Troitsa. Troitsa must have visa for all ex Yugoslav republics and these had to be picked up in Brussels, Bonn and Ljubljana.
In Slovenia people in Ljubljana, Koper, Celje and Izola particularly did as much as they could to make concerts of Troitsa possible. The national manager of folk music in Slovenia, Peter Barbaric, had to be convinced and only after he saw a concert in Slovenia he admitted it is even a potentially commercial band for Slovenia.
Troitsa also played on the EBU festival, the festival of the European Broadcast Union for contemporary folk music, in Portoroz. Not many audience but many international people of which one Bosnian journalist, Vesna Andree, who gave a good description of Troitsa. She said; 'this is actually the only contemporary band I've seen on the festival. All others were traditional folk bands.'
In Slovenia we also spoke with national radio and TV about the Troitsa music, the Troitsa situation and the Troitsa destiny; Bosnia Hercegovina.
In Croatia Troitsa played two concerts organized by Kekere Aquarium, a small cassette label and management office that also showed their music several times in BiH. One concert in the Ethnological Museum, organized in cooperation with youth club Bad Taste. A very fine mix of youngsters and older people. Troitsa also played in Zagreb after the footbalmatch Croatia-Germany and, even if the football match was a Croatian success, the concert was reviewed very good.
The concert in Novi Sad couldn't go on. The Yugoslav embassy said it would be possible to get a visa at the border. For Belorus people it is but not for me, as Dutch person. Troitsa was not allowed to drive the car with Dutch license plates. Result was that Troitsa took a bus through Yugoslavia and I took the car back to Bosnia, through Croatia and we met again in Szeged, Hungary.
We were very sorry for all the people who put so much energy in getting us there and promised a free concert next time we are in Yugoslavia.
Everywhere on the Balkans there was an organizational complication. The Troitsa tour started on 5th of June while the concerts on Balkan started end of June, begin of July. Therefor these concerts had to be arranged quite a long time before. Sometimes that is hard on the Balkans.
In BiH there were 5 concerts planned, 4 normal concerts and one press meeting concert.
In Banja Luka we tried to make the concert in Kastil. It would be a great place for everybody to have a free concert. Although the management of Kastil cooperated in the beginning, afterward things became more and more difficult. We had agreed we should pay a little for the place and for cleaning up, two week before the concert (I was than in Holland) the management raised the price with 100%. After that the management said our local support (Dejan Milic) should go personally to the police to ask permission for the concert. The police agreed if there would be paid 500 DM. Dejan Milic decided to use the alternative space we had in case there would be bad weather, KSET. Here the concert took place in front of 140 people, two TV stations and one radio station. In fact on this way we also saved 450 DM for Kastil and 200 DM for transport of the PA system. We only paid the soundman, the local support for his phonecall he made to us and for sleeping accommodation. OBN broadcasted the concert around 1st of August.
Our expectation was that in normal situation there would be approximately 300 people at the concert of Troitsa in Sarajevo. Therefor we have been looking for a good concert hall. We decided to make the concert in Bosanski Kulturni Center. They offered us soundequipment, publicity, security and safety regulations (Hitna Pomoc). To compare this with other places; Dom Mladih asked 66% of the price of BKC but without soundsystem, Sloga asked 50%. under the same conditions. POO had no time and people to arrange these extra facilities.
There we two alternative ways of organizing the Troitsa concerts:
1) Let them play several concerts in small bars (FIS, Internet, CLOU, KingKong, Marquee and so on)
2) Organize several small outdoor concerts.
This last option would have costs a lot of money for equipment and a lot of time for the necessary permission.
Because of all these reasons and because of the marvelous acoustic in BKC we choose that place.
A choice not very much appreciated by the people in the town. Many people said they wouldn't come because it was in BKC, we obviously missed the mouth to mouth advertisement the people can create themselves. We missed the Dutch people, probably of that nights' football match (Brazil - Holland), we missed the German people (because of a loss of friends they were suffering), we missed all international people although we've putted a lot of effort in reaching them personally, we missed the art scene because, as they said later 'they had a party'. Because to the football match the concert started at 19.30, too early for many.
Because of the extreme high costs to organize a concert in Sarajevo (normally a band gets money, here you may be glad if you do not pay too much) we charged 2DM entrance. There was an article in Vecerni Novine about this. It said: "Cultural manifestation free for everybody except for Sarajevo". In this article there was no information about the group, the music or the time of the concert. Obviously the article was made to make people angry. Our estimation is that this costs us also quite a lot of people.
Posters
New Design made posters for us for free. They used a drawn that was used also during the war in the underground circuit. It contains a orthodox cross, a catholic cross, a moon and star and a jewish star.
In Banja Luka most posters were disappeared within two days, probably my people who didn't like the green color and the moon and star. In Mostar the poster was taken off by a radical youth group. In Sarajevo, however, they were taken off by Faruk Drina and his employees, with the message that those places were reserved for 10.000 Dino Merlin posters.
Also BKC didn't fulfill it's promise. When we went to the office to pay the rent for the hall we found 35 posters plus 200 flyers unused.
There were 6 radio stations that promised to put Troitsa on the air. Only Radio ZID and Radio HAYAT really did. The day of the concert itself ISV, EFM and ZID did interviews and music.
The result of all this was that Troitsa played a brilliant concert for 50 people in a hall for 750 people.
In Mostar Troitsa had a great concert but almost only internationals were there. The reason for that was that it was the next day of Croatian football and the match before some people got killed and injured by 'celebrating' Croatians. There was a great tension in town.
Unfortunately The concert in Bugojno was not realized because the date of the festival in Bugojno changed several times. Troitsa also couldn't enter Bosnia (nor Croatia) more than once due to visa. Finally Troitsa had a convert in Novi Sad the day of the Bugojno festival and one day later they had to be in north of Hungary.
The press meeting became one of the most typical happenings in this whole Balkantour. While there were several confirmations nobody showed up. Zlatan Izetbegovic from BiH TV faxed two times to Holland for details and confirmation but never showed up.
The journalist from Vecerni Novine came after the concert to BKC, asking the audience things like: how many people were there, what kind of music, what's the name of the group? He than asked if he could do in interview and make some pictures. Confronted with the article in Vecerni Novine of two days ago he and his photographer left having a fight together.
Foundation 'Zesde Kolonne' works, in cooperation with POO on the following items considering the Future of Troitsa.
During this tour Troitsa released a CD on the Dutch PAN records. Troitsa could make a lot of publicity during this tour and sold quite some of these CD's.
Registration of Music in Western Europe of Troitsa music, which will be the opportunity to do this with Bosnian bands in dthe future.
Future results:

The singer of Troitsa, Ivan Kirchouk, announced to come to Bosnia Hercegovina in the winter on his own, singing solo concerts and playing puppet theater for children.
Ivan Kirchouk also takes the information about Bosnia, in relation with culture, to the University of Minsk, were he is professor of national folk history.
'Troitsa' as band is not sure if they will come back to Bosnia Hercegovina. Traveling through Europe they could see very clear the way other people respect each other and they received the signals of the spirit which were send to them, and about the music they bring. In Bosnia this spirit towards all art is unfortunately not always on a high level. This, as mentioned before, while the situation in Belarus is economically and socially much tougher than in BiH.

***

POO however was very pleased with it's results as international management office in BiH.
POO is reasonable pleased with the functioning of POO cooperators during the beginning of the Troitsa tour when the director was in Holland. Most local cooperators probably will be cooperators in future as well and there's not any reason to be though on them.
POO faced difficulties inside BiH itself. Partly this is evaluated and will be changed for the better. Partly POO had (expansive) lessons in BiH's reality which can never be denied, specially in Sarajevo. The date (footballmatch), the time (19.30 is too early), the location (BKC is not popular), the symbolic difference in entrance for the concert, and, in a less extend, the way of making publicity. It is up to POO's future activities that these mistakes are made for the better. POO speaks out the hope that this will remain as nothing more than a disappointing anecdote in the future.

***

Financial report

Troitsa does not publish it's finances openly.

However, it must been mentioned that Troitsa could have never come to the Balkans without the modest, but very much needed support of The Soros Open Society Foundation BiH.

***



Press materials

Morgenster - Oerol Festival

Troitsa Merchandise
Links

Troitsa as project, as tool, as key for linking the people in very practical ways, is a long term cooperation between POO, Foundation Zesde Kolonne, international musicians, recordlabels and bookings agencies