POO - Forbidden Fruits of Civil Society - Festival Report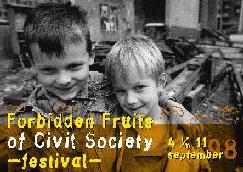 ---
The Forbidden Fruits festival is a traveling festival having itís tenth edition in itís hometown Utrecht, NL.
POO director has been participant in three previous FFOSCFestivals, of which two times in Sarajevo.

:

The reason for POO to work in cooperation with the Forbidden Fruits Festival could be described as following:

Cooperation with local Bosnian organization on such a big event. Organization experience or Ďeducationí.
Information supply to the Dutch society, as one of POOís root aims.
Organization of an outreach program with Bosnian music groups in Holland. This aim has a double sided background. POO has the opportunity to maintain the contacts in itís homeland and POO has the ability to experiment with working with Bosnian bands abroad.

:
40 of a total of 125 artists on the Forbidden Fruits of Covil Society Festival in Utrecht in the period 5 until 11 September. (The complete Bosnian group performed 6 concerts, 2 expositions, 1 theatre play, 1 combined poetry performance, a radio show, several expositions and extensive addition to the festival information program)
Exclusive two days program in Eindhoven with all Bosnian artists involved, including film program on 12 and 13 September.
Music outreach program containing 13 concerts of which 4 in refugee centers in Holland and one live radio program during the above mentioned dates.
Introduction program for Job 22 including meetings with the International Organization for Migration (IOM), members of the parliament and refugee organizations.
Nationwide information to the media.
Internet information supply.

Participation to the complete festival was satisfying for the festival organization as well for the participants. Many contact with other participants (many former Yugoslav) where established.
Most problems turned out to be minor problems solved during the festival. Not many visitors complained longer than two days about the vegetarian food. One dispute, between Arnulf Den Boesterd, coordinator of the FFOCS Festival and Peter Vilk, leader of the Sarajevo Drum Orchestra, was mainly caused by exhaustion.
The program went according to expectations with all concerts, performances and expositions as planned. One painter sold a painting but for less then the prize he asked for.
The exclusive program in Eindhoven was considered fine from two sides as well. Small practical problems made it even harder for organization and participants. For example: The arrival in Eindhoven should have been at 13.00 hours but the bus arrived at 20.00 hours which made lunch, soundchecks, one exposition and a relaxed introduction to the hosts for sleepingaccommodations quite impossible. The reason of the delay was that the drivers of the bus followed the Slovene bus, which was on itís way home after the Utrecht part of the festival. And they had no map to find the way back.
The Forbidden Fruits of Civil Society Festival is mainly an underground happening. Because of that there are more opportunities to get great and unexpected situations. Much more is possible with little needs. On the other hand it can be exhausting and sometimes confusing for the participants.
Unfortunately the situation in Holland is overloaded by fancy culture so that only a few people are interested in social cultural events like this. An average of 75 visitors to festival nights is, in my personal opinion, very little.
The publicity was done reasonable although it might be so that more direct publicity (for example to employees of NGOís working in ex-YU, media, refugees from ex-YU and so on) could have been better. Also the publicity to people Ďout of the sceneí could have been better. Upfront it was known to POO that the festival organization did not like the festival to be announced as an ex-Yugoslav festival because of many other nationalities involved.
Besides that the underground circuit sometimes has the tendency to make an appointment and than change it afterwards on private initiative. This caused extra irritation and also one concert was canceled because of that reason. The underground scene remains to be a little stubborn.
POO itself was glad with the final results after being in-between complete impossible and unsolvable situations. Not one disputes was caused and quite some were nipped in the bud.
POO was pretty disappointed with the announcement of itís participation in the festival organization. It was hardly mentioned in any publicity unlike other participating organizations.

:

The outreach program of this festival was extensive and with different results.

The Sarajevo Drum Orchestra played many concerts on the street, in refugee camps, live on the radio and on a giant music fair as main act on a day Horacio Hernandez, the drummer of Carlos Santana, was also playing. In this occasion a CD of their concert was made. Their outreach program paid all their transport costs and they earned their living although their schedule was exhausting.

The group Ornamenti played two extra concerts. Upfront it seems that they could have had the most and best paid concerts but finally they played only two concerts and both were on door commission. Altogether 9 people showed up at these two late arranged concerts. POO promised to pay at least all costs and did but was disappointed in several people in Holland who promised to do much more for them and in the general situation for this particular group.

Pessimistic Lines didnít play extra concerts mainly because it never happened to start working on it. Same situation happened with Kaiten Hard Jazz although they also had several complications arranging extra concerts because several members had other obligations during the festival.
The group PEEP, who came to Sarajevo on behalf of CRASH organization played 8 extra concerts in Holland.
The introduction program for Job 22 started pretty good but it didnít get the result POO was hoping for. The reason for that was just too busy program. The Job 22 member, Zdenko Eterovic, president of the high court in Sarajevo, was pleased, met his friend in Amsterdam and managed himself to meet several organizations as well. He showed happy and content and POO is curious to his inner thoughts.
The nationwide spread of information showed again the apathy of the Dutch media. Not one newspaper or radio program reacted on the requests send to them, besides local newspapers and radiostations in Utrecht and Eindhoven. There were several journalists interested in the program but they faced difficulties getting the information in their own newspapers as well.
The information was spread completely on the internet. Web pages made by POO finally will be turned into a small archive. The log file said over 100 people visited the sites in the two weeks before the festival. Finally there was also a on-line computer on the last day during the information program in Eindhoven which was used intensely by festival participants.
Seen from the point of view of POO it could be said that the cooperation with the local Bosnian organization in the preamble of the festival was pretty difficult. Maybe this is because POO had the festival as one of the main events to focus on during the complete year, while the members of the local organization had many other things on mind in the same time.
The main problem in this is that it is very hard to get local people organized. The Ambrosia Art Organization is in a constant process of change.
From the people who have been in Holland in April to prepare this festival in name of Ambrosia Art Organization only one person was left. Because POO has itís own interest in the festival itself, it seems that others react in the way like; Ďwell, it will happen anyway, so donít push me and stay friendly.í As if that was the most important thing to do to get a festival like this organized.
To achieve a more coherent group POO suggested to make a weekly newsletter for Bosnian participants including all information involved. This newsletter was mainly made by a POO employee. The result of this newsletter was much appreciated.

The difficulties we faced were not so big but very complex. Doing 'organization education' as partner organizer is impossible and should not be an aim of POO unless agreed upfront with all cooperators involved.

Other problems and results in the preamble of this festival
Gluha Doba from Zenica, a group many people were interested in, was not able to come due to two members who didnít wanne play for free. A lot of work was putted in the preparations of their visit.

Many possible participants from Banja Luka were not able to come due to the fact they couldnít get a passport.

The complete group became mainly from Sarajevo due to the above mentioned problems and the lack of result by the local Bosnian organization. It must be said that the poetry section did extensive work on this isseu to break through the line of 'normal expectation".

The film program was announced in Holland greater as it ever could be. Finally there was a very limited program from Bosnia because of demands from Bosnian people considering payment of translations and conversions. The fact the Sarajevo Filmfestival was going on just before made it even more difficult to get things done on this issue.

POO finally needed to drive with a private car to Holland because the car was needed very much for the festival. It costs much more money and energy. For example this car transported a substantial amount of equipment when the bus broke down on the way home and the new bus that came to pick up all participants (a line bus driving everyday up and down from Bosnia to Germany) couldnít carry all the equipment we carried. The POO car was also used to carry materials during the outreach program and it was used to bring people to their sleeping addresses during the festival.

At the very last moment POO solved the transport problems for the CRASH organization in Bugojno, present at the Forbidden Fruits Festival with one Bosnian and one Serbian band.
of Bosnian participants on the FFF festival program:

Ambrosia Art Organization (7 People)
Sarajevo Drum Orchestra (8 people)
Ornamenti (4 people)
Pessimistic Lines (3 people)
Kaiten Hard Jazz (5 people)
Sanja Sosevic & Semo Hebibovic, painters
Mirel Hadzijusufovic & Dino Zulumovic of Radio Zid
Zdenko Eterovic in behalf of Job 22
Ranko the Killer & co, theater and poetry (5 people)
Bojan Mulic, video registration
PEEP (4 people, on behalf of CRASH organization)

POO employees worked approximately 450 hours to achieve the organization of this part of the festival.
POO traveled over 6500 KM in order to get all information and to get all things transported during the festival.
Finances

from						amount		for

Soros Open Society Foundation BiH		 5800 DM	Rent of a bus
Fund of Global Consciousness City Eindhoven	 2000 DM	Visaís
POO organization				  250 DM	Transport costs before 
POO organization (Martin S. Past private)	  560 DM	Transport costs during
POO organization				  500 DM	Outreach program
POO organization				  225 DM	Office costs
Peace Office Eindhoven			 	  400 DM	Food during the trip home	
2B club Eindhoven				  200 DM	Extra transport costs SDO


M.S.P.
September 1998

A reaction of the FFF organization.
A dead end or a living thing?