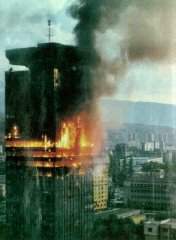 The Lu - Njo San war tour through Sarajevo

Welcome in the town that suffered the longest siege in modern history.
In this tour you can see the places where people waited in line for water or food. You will see the places where massacres took place and you will visit neighborhoods were frontlines went through.
During wartime politicians tried to proof that people can not live together. But the granates made not distinguish between ethnics. In several graveyards you can see the proof the people can live, and die togther. The Sarajevan diversity was alive during the wartime, although under strong pressure. But even cultural live was active during the bombings.
This tour based on war experiences are, as always with war experiences, strongly related to the personal experiences of the guide. Lu - Njo is very pleased to explain you about the situation in that time and the current situation. Sarajevo is still a magnificent town. See for yourself.

Click on the pictures left and see those details in the main frame.

This personal guide tour will be for small groups only.
Several locations on this tour can only visited by car.
The City tour will take aproximately 5 hours, but it is up to you !
yours, Amir 'Lunjo' Telibecirovic